Shaw Titan HD Plus Product Review
Posted by MariRuth Runyon on 31st Jan 2023
Shaw Titan HD Plus
Since its humble beginnings in 1949, Shaw Floors has paved the way in the flooring industry. They offer an extensive variety of carpets and hard surface options. From solid hardwood to the softest carpets, Shaw has a bit of everything. With so many styles to choose from, it is hard to focus on just one. Whether its design, color, texture, or durability you can rest assured that Shaw has you covered. They are a staple brand in the flooring industry and highly recognized as a trusted company. Any flooring store or site you visit will have Shaw products. In the hard surface category, they are leading the way for innovation with their newer waterproof products. One of their most-searched products is the Titan HD Plus WPC flooring. This hard surface option has many aspects that make it a great option for any space. This review covers three main points: durability, texture, and design aspects.
Shaw Titan HD Autumn Barnboard
When selecting flooring for your home or business, Shaw Titan HD Plus will fulfill all your design needs and maybe even more. You may be wondering if this style is going to look synthetic or maybe even cheap but this is not the case with Shaw products. The rustic pine, chestnut, and reclaimed/rustic barnboard visuals mimic natural wood. Each plank has unique variations that make you forget they are not real. The wood-look has always been timeless no matter the area but sometimes people have doubted certain color palettes. In Titan HD Plus, the 10 colors available are carefully selected with the latest decor styles in mind. With cool and warm tones throughout the color options, Titan HD Plus brings an almost earthy feel to your decor. Each color option features significant plank to plank color variation that adds to the look of flooring as a whole. Blending together similar shades from a single color scheme, Shaw creates a universally stylish flooring. Neutrals are versatile and great to pair with modern or rustic decor. Besides the stunning colors of Titan HD Plus, the width of these planks elevates its style drastically. Titan HD Plus has a 9-inch width that makes it ideal for open concepts. The larger the width, the less of a distracting lineal pattern you create. You want your floor to complement your spaces, not distract.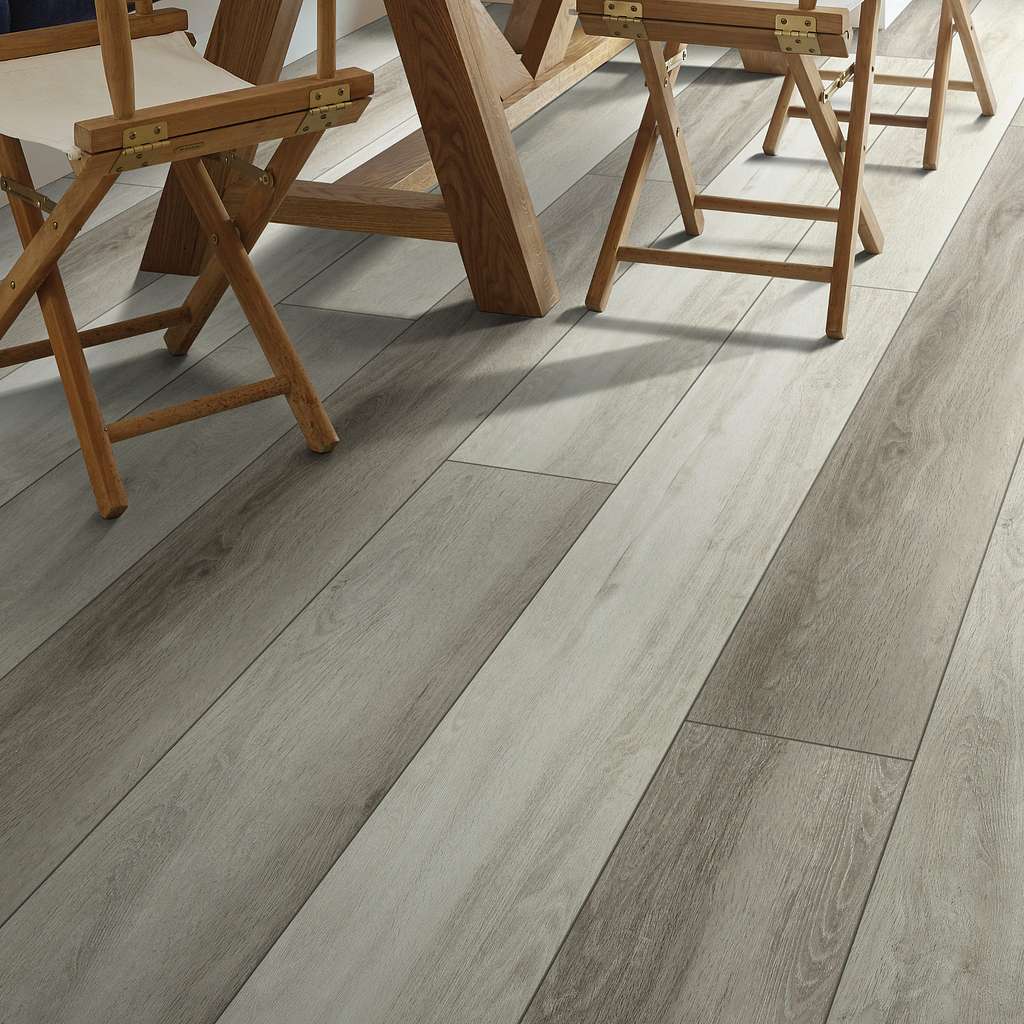 Another aspect that goes hand-in-hand with design is texture. It is one of the major aspects you want to look at when buying flooring. Texture can tell you a lot about the quality of a product. You want to carefully pick your flooring according to texture because that is what you will constantly feel underfoot. Titan HD Plus also features a Soft Silence® acoustical pad for noise reduction and added comfort. Shaw has some of the best products and you can tell just by touching them. The weightiness of their planks gives you the feeling of durability and quality. With their solid hardwood styles, Shaw has hand-scraped textures along with sculpted and saw mark patterns. While Titan HD Plus is not solid hardwood, Shaw ensures it has the look and feel of it. If you run your hand over the flooring, you'll notice something remarkable. You feel fine indentations that match the underlying photograph of a wood plank, similar to the grain of a plank cut from a tree. The embossing that creates the indentations must align perfectly with the image of the wood in order to achieve this extremely realistic 3-dimensional appearance. This precise alignment is known as embossed-in-register (EIR). The embossed physical grain of the wear layer is combined with the image film. Not only does it look real, it feels real.
Last but certainly not least, durability is the final make-or-break factor when purchasing flooring. Luckily for you, Shaw Titan HD Plus features an Armourbead® wear layer for enhanced performance. This wear layer is a proprietary coating specific to Shaw that utilizes nanobead technology. Small ceramic beads are combined with the polyurethane coating to provide protection against scuffing below the surface. This 30 mil wear layer ensures the highest durability vinyl can offer. In addition to its exceptionally strong surface, Shaw Titan HD Plus has a WPC construction. WPC stands for Wood Plastic Composite. The engineered backing combines recycled wood pulp and plastic composites to form a bond of strength and stability. This is then topped with a standard vinyl top layer. A WPC vinyl is thicker than your traditional vinyl. Titan HD Plus has a 12 mm thickness and it is waterproof. Thanks to its high quality, this vinyl can be installed on all levels so you do not have to moisture or wear. When you install Shaw Titan HD Plus, you know it's supposed to last a lifetime, just like their residential warranty states. Warranties are a great way of gauging the quality of a product. With this particular style, there is a residential and commercial warranty, meaning it is highly durable and can be used in heavier traffic areas.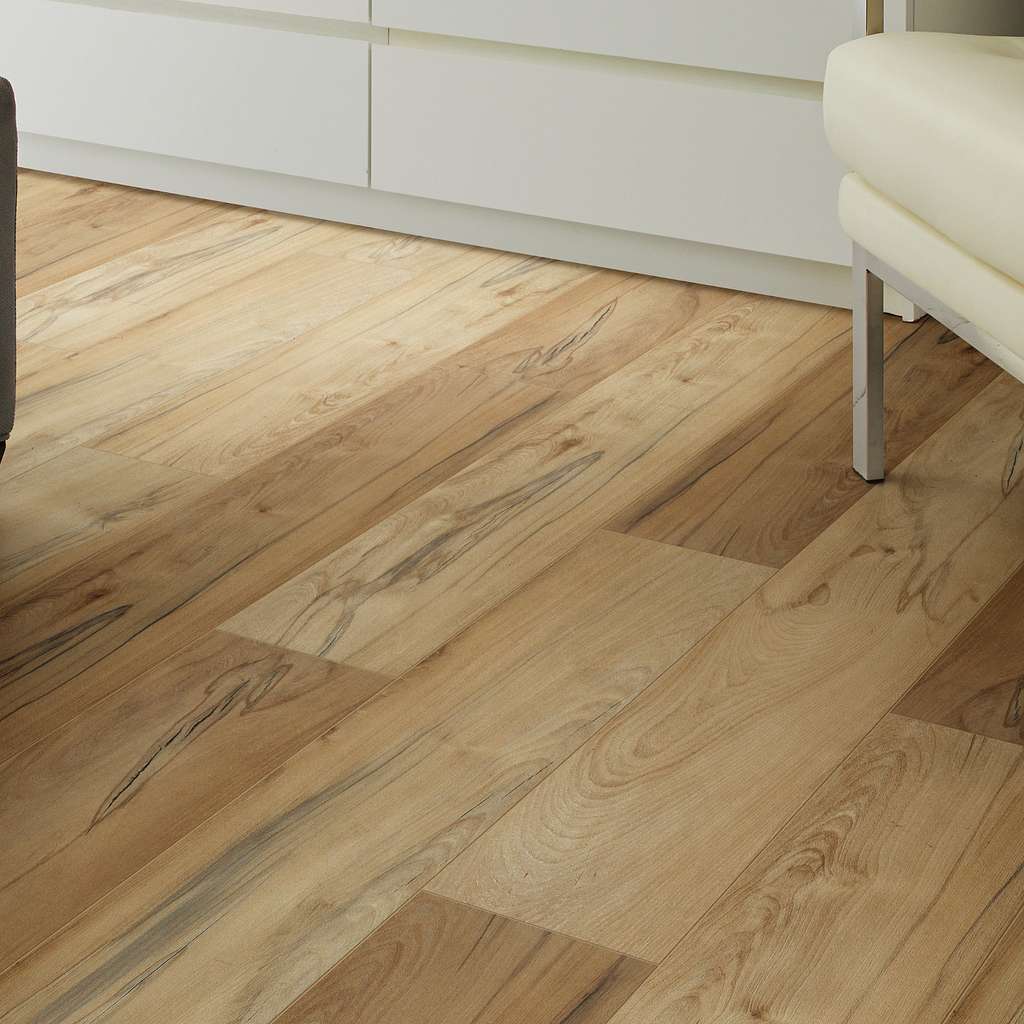 Titan HD Plus is part of the Floorte Collection which is a top-selling luxury vinyl collection from Shaw Floors. After reviewing the various factors listed above, it is easy to see that Shaw offers the best in high-performance and low-maintenance waterproof floors. They pay close attention to detail and quality as seen in their various products. If you would like more information on Shaw's Floorte line, click here. Even if you are not looking for vinyl, Shaw Floors has a great selection of hardwoods and carpets of the same top-notch quality so make sure to check out their other products!